In the second session of the Vietnam M&A Forum 2022, titled "New Value Creation", renowned dealmakers delved into how new possibilities could be the drivers of next-generation value. Various experts also shared their insights into the challenges of putting M&A transactions into action and strategies for overcoming them.
Dr. Nguyen Cong Ai, senior partner of KPMG Vietnam, moderated the forum's second discussion session. Keynote speakers included CEO of SABECO Bennett Neo, CFO of Loc Troi Group Le Thanh Hao Nhien, country head of Cushman & Wakefield Vietnam Trang Bui, founder and CEO of ASART Deal Advisory Binh Le Vandekerckove, CEO of Hobbit Investment William Do, head of Business Development Unit at Gamuda Land (HCMC) Khanh Nguyen, and general manager of Residential at Frasers Property Vietnam Truong An Duong.
According to Dr. Ai, a recent study conducted by KPMG Vietnam revealed that M&A deals in the country encountered a downturn in 2022, resetting to pre-pandemic levels after a surge in 2021.
The first 10 months of the year have logged in $5.7 billion in total, representing a decline of 47.4 per cent as compared to the whole of 2021 and 12 per cent compared to 2020. The number of deals has also significantly declined from the previous two years.
"The real estate and construction industries are witnessing obstacles for various reasons including geopolitical challenges and credit limits to name a few. I recently discussed this with a CFO of a large construction company and he said that it was very challenging to turn a profit while still meeting payroll obligations," Ai said.
Trang Bui, country head of Cushman & Wakefield Vietnam
Given the volatile market conditions and the challenging macroeconomy, the real estate industry – as one of the economy's backbones – is likewise significantly impeded.
Vietnam is still a young economy and the real estate market is still immature. Many things need to be rectified. The housing market is the most crucial category in the property industry, but lately, there has been nothing but negative news all around the world. For instance, big tech companies in the US have been laying off a large number of skilled staff. In Vietnam, the price of some property projects has dropped by 40 per cent, leading to large layoffs from big property companies.
Overall, an average Vietnamese citizen cannot afford to buy a house in Ho Chi Minh City, which costs between $652,000-870,000 – far exceeding their current annual wage.
The real estate industry is a capital-intensive sector, which needs support from banks and the corporate bond market. But in the context of market chaos and increasing interest rates, businesses find it challenging to use financial leverage and other financial tools.
Almost all of the foreign funds investing in the Vietnamese market have also diversified their portfolios in other countries' markets, such as Japan, the United States, and China. Nevertheless, the current global exchange rate fluctuations could cost them at least a 10 per cent loss in their net asset value. Clearly, the financial market presents rewards, but also concerning threats.
Truong Anh Duong, general manager of Residential at Frasers Property Vietnam
The global market has been relatively quiet as of late, but Vietnam is in a unique position compared to its regional peers with vast potential thanks to a young and vibrant economic climate. Therefore, Frasers believes the country still boasts large opportunities, which is why Frasers keeps looking for more investment prospects here.
Frasers is a global investor with extensive holdings in industrial real estate in Thailand, Australia, and other countries. Amidst the challenges facing the residential real estate segment in the last 2-3 years, we have opted to capitalise on developing industrial property products.
Vietnam has a position and strength in global competitiveness because it has greater advantages than its competitors in terms of industrial production, leading many to relocate their manufacturing activities to Vietnam.
We can see that there will continue to be a huge investment capital inflow into Vietnam's industrial property sector in the coming time thanks to the country's multiple trade agreements and favourable geographical advantages.
Overall, we anticipate an uptick in the number of active commercial real estate developments. Moreover, in 2023, deals will begin to materialise in the industrial park real estate market.
Khanh Nguyen, head of the Business Development Unit at Gamuda Land (HCMC)
Gamuda Land's entry into the Vietnamese market in 2010 coincided with the beginning of the real estate sector's recovery after a long period of decline (2008 – 2012). Gamuda Land saw an opportunity in Vietnam and chose to make a significant investment there.
We have demonstrated that we have achieved success in areas that were not very competitive at that time. What we provide to the park and the ecosystem is priceless.
Despite emerging obstacles, we are unwavering in our commitment to making substantial investments in this country. Even though this was the most challenging time for the real estate market in Vietnam, we nevertheless made the decision to invest and were successful. We believe the current market to be entering the subsequent phase of its correction stage.
We anticipate that the domestic legal framework will be adjusted in 2023 in order to facilitate the market's development in a more sustainable manner.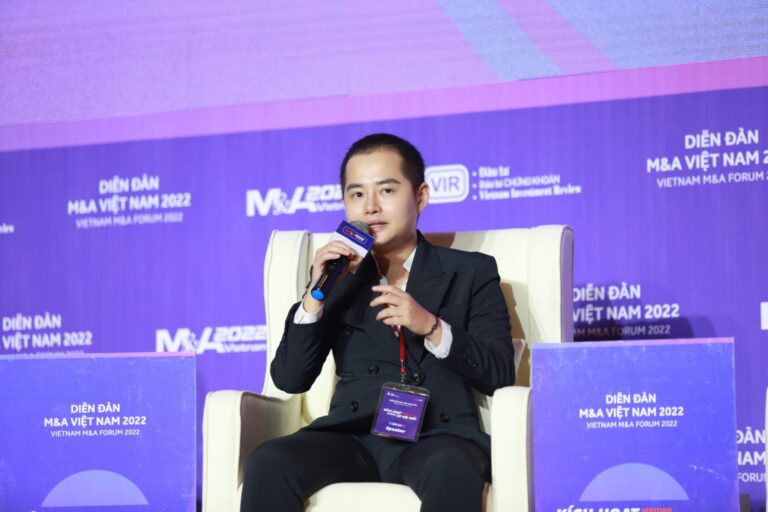 William Do, CEO of Hobbit Investment
Overall, M&A has served as a crucial development engine, propelling many organisations to greater heights. M&As are growth accelerators but often present significant risks and difficulties, particularly for young and immature startups.
It will take a few more years for startups to get to the point where they can fulfil the bare minimum of M&A needs. If Vietnamese startups are serious about expanding sustainably, they too will need to reconsider their tactics. Startups are not just loss-making businesses anymore.
Even though Vietnam is home to a so-called unicorn in the blockchain industry, the post-M&A dust has settled on the project and revealed its flaws. The founding team has lost their ability to make decisions at this time. Any startups looking for tie-up deals with their partners should be warned about this.
Binh Le Vandekerckove, founder & CEO of ASART Deal Advisory
The previous 3-5 years in Vietnam's healthcare sector have been very promising, but this is just the beginning. The healthcare industry was formerly held solely by the government, but since then it has attracted the private sector, particularly international investors and organisations.
Education has been another of the highlights of cross-border agreements. Value-adding sectors which attract M&A deals also include logistics, energy, and manufacturing.
In the last 14 years, since I founded ASART Deal Advisory, my impression is that M&A activity in the manufacturing sector is very steady. However, deals related to real estate are characterised by very volatile market fluctuations.
Bennet Neo, CEO of SABECO
So far, many people have thought that we bought Sabeco without due diligence, but I must say that it is very hard to evaluate this result.
I had to comb through basically everything, almost like doing a mini due diligence by myself, going through the whole company to see where the value was, what the biggest impacts were – right down to the smallest factors – and what we could do in the short and long term to match them to a three-phase strategy.
You must understand the company first, then you'll be able to extract the value. Most of the time, you'll probably get from 80-90 per cent correct, but you'll never get it 100 per cent correct.
I've also worked in the United States, Europe, Asia, and China, but being the CEO of Sabeco is the most difficult job I've ever had. The law is different here, and it's difficult to adapt to.
For Sabeco, the company structure is different and complex because it's a state-owned company. What we've done in Sabeco is to implement the first phase of transformation into seven pillars supported by the Sabeco 4.0 project, including sales, marketing, supply chain production, people, and digitalisation.
I told my employees that we would take another 3-4 years or even longer and then we would go to the third phase of transformation. In the next 10 years or more, Sabeco will become a professionally run and internationally respected company.
Le Thanh Hao Nhien, CFO of Loc Troi Group
Lucrative industries, such as real estate and consumer goods, typically do well in attracting investment. When it comes to the agriculture business, most investors and even banks immediately dismiss it as unattractive.
After a period of restructuring and reorganisation, Loc Troi Group has come to see its employees – all 3,000 of them, including 1,000 engineers – as its most valuable resource. The group has successfully built a solid foundation with other stakeholders, from farmers to cooperations, municipal governments, and other business partners.
Based on this core, we reorganised it into four major segments. We are repositioning strategic plans for each specific segment and increasing our footprint by reducing imported products and enhancing the quality of our equipment.
(By Luu Huong & Hong Nhung, Vietnam Investment Review)